Save Money with This Long-term Fix for Scour Problems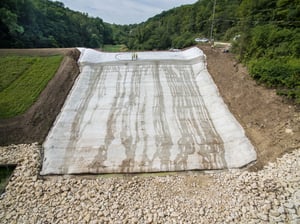 Scour poses a large threat to the stability of any structure that is partially or entirely underwater. It may develop slowly over time, or be brought on quickly by an intense rain event or seasonal flooding. In some cases, such as along a shoreline, scour can be very evident. In others, scour can go unnoticed for an extended period of time. Whether it is taking place around the footing of a bridge pier, along the base of a sheet pile wall, or along a tailrace on a dam, scour may not be evident until the structure begins to show signs above the water. At this point, the structure is beginning to fail and repairs must be done soon to avoid a total loss of integrity. Repairing scour and erosion issues that may be going unnoticed in any location is vital as it will save a lot of money in the long run, and extend the life of the structure.
How Can Scour Be Fixed?
One of the most effective scour remediation methods is to surround the pier with an articulated block revetment mat (AB mat.) This method involves using a high-strength nylon fabric form work reinforced with steel cables. The mats we typically use come in sizes of four, six, or eight inches thick, depending on the application. The fabric can be placed above or below the waterline in a wide variety of sizes and shapes that can be customized in the field. The mats are secured into place, and then cementitious grout is pumped into the fabric form work.
When filled with grout, the mats form a block pattern designed to articulate into a void area that may occur at the toe of a slope. The foot of these mats is constantly exposed to scour conditions. However, the mass of the mat and the ability for the mat to articulate counteracts additional scour.
Where Can AB Mats Be Applied?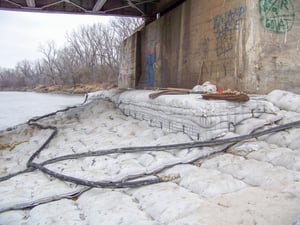 AB mats can be applied in a number of applications. We have placed them above and below the waterline around bridge piers, canals, spillways, along shorelines and levees, and even in water retainer ponds.
As water often flows strongly around the base of a bridge, piers are susceptible to undermining and stream bed degradation, which if left unchecked, can lead to the structure's failure. An AB mat usually extends anywhere from 10 to 15 feet out from the pier. Bridges are one of the most commonly overlooked types of structures when it comes to scour. It is easy to forget about the base of the pier when it is underwater and "out of sight, out of mind".
Shoreline Scour
Similar to piers, shorelines face erosion and scour as well. Especially in areas where flow rates are high. Narrow channels, canals, and levees often experience scour problems, especially around a bend.
Dams
Dams are notorious for having scour issues. Whether it is at the toe of a spillway, the foot of training wall, or the tailrace, any area that experiences constant or sporadic high flow rates are susceptible to scour.
Harbors
AB mats also provide production for underwater scour due to shipping. In shallow harbors, deep draft vessels can cause scour when they arrive or depart from a dock. Sediment from the bottom of the harbor can get kicked up in propeller wash, resulting in scour holes. AB mats can prevent this by adding a layer of armor to the bottom of the harbor.
The Installation Process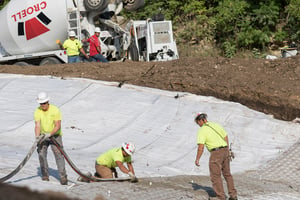 Since AB mats can go both above and below the waterline there are multiple ways to install them. On underwater installations a small crew of divers can complete the installation of AB mats. Working from a small float, the divers can pump grout from a shore-side batch plant or truck located up to 800 feet away. Once the divers have the mat positioned and secured in place, they then fill it with a structural grout. The mats will often overlap one another to prevent exposure of underlying sand or sediment.
Also, AB mat installation may not require large equipment such as barges, cranes, and excavators. Crews can station along a shoreline or on a bridge and supply the installation process from several hundred feet away.
The Advantages of AB Mats
When compared to another scour remediation tactic, such as rip rap placement, AB mats have a lower profile. When placed in a channel, the will not affect the flow through that channel as much as a large armament of rip rap. The mats will also typically last longer than rip rap as the steel cables will ensure the integrity of the entire mat system for long periods of time.
Protection for the Future
Protecting your structure against scour extends its life and helps ensure it stays in good condition. Using a proven revetment system like AB mats goes a long way with reliability, multi-purpose application, and longevity. Overall, AB mats are a very constructible, low profile and cost-effective method of scour repair and protection.
More info on Brennan's experience with dam scour and erosion repair.