Lock and Dams, bridges, pipeline crossings, and barge terminals are all examples of water-based infrastructure. Ensuring that these structures maintain their integrity is essential to their continued operation, however water-based infrastructure presents an added challenge because a portion of the structure is underwater.
Using an experienced, certified commercial diver with the necessary knowledge to perform a thorough underwater inspection is the most reliable way to determine the underwater condition of a structure.
Reasons for Inspection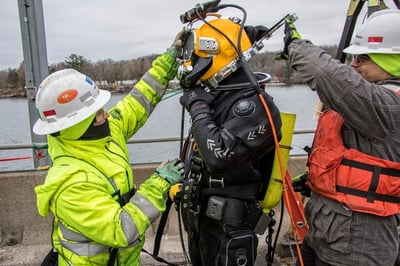 The need for underwater inspections can be triggered for a variety of reasons. One of the more common instances is topside visual evidence of an impending failure; such as cracks, water seepage, or a collapse of the surface. These are all indications that the structure has begun to fail, and the problem most likely lies beneath the surface of the water. Failure to investigate further could have devastating results.
In cases that are more serious, a post-event inspection occurs. After high-water events, vessel impacts, earthquakes, or any event that could cause shifting, a post-event inspection is necessary. For instance, a flood event can cause substantial scour along the toe of a bridge pier foundation. One may never know that this damage is present until a failure occurs.
On occasion, federal regulations require periodic underwater inspections on critical structures. For instance, the Federal Energy Regulatory Commission calls for inspections on hydroelectric facilities every five years. This oversight is placed on dam owners to ensure they are monitoring the underwater conditions of their structures. The government's concern is a catastrophic failure that would lead to loss of life.
Methods of a Dive Inspection
Underwater inspections should be carried out with properly trained and equipped dive teams. Underwater work is dangerous, and often visibility is near-zero. Commercial divers with Association of Dive Contractor International (ADCI) certification and knowledge of underwater structures should be used.
A typical dive team consists of at least three people. On a three-person dive crew, a single diver enters the water, while a standby diver is in position to respond to an emergency. The third person operates the underwater radio and takes notes on the diver's verbal reports. He or she is often viewing footage that is captured by a camera attached to the diver's helmet. This video can be recorded along with the audio of the diver as he or she moves along the structure.
In instances where there is high-head differential, limited access, or confined spaces, a four-man dive team will often perform the work. Utilizing an extra diver increases the safety standard in these more precarious situations. For many of our clients, this approach has become standard practice.
The diver doing the inspection can utilize a wide variety of tools such as simple rulers, tape measures, probes, sounding equipment, and video cameras to record the entire inspection. The biggest advantage of having a diver perform an inspection is the ability to investigate any anomalies in more detail. While imaging technology will capture pictures, a diver can measure, explore small crevices, and even test the integrity of the concrete or steel. For instance, a knowledgeable diver is able to determine whether or not concrete is deteriorated by using a pick hammer.
A Safe Alternative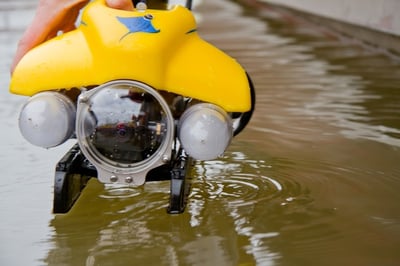 In areas where it is either not safe, or not possible for a diver to enter, a Remotely Operated Vehicle (ROV) can be used. Putting an ROV with long-reach tethers into confined spaces, environmentally hazardous areas, or high-head differential locations is a safe alternative for visual inspections.
Getting the Results
An inspection is only as good as the information communicated. A diver can investigate and effectively report critical information, however, his or her team must assist in making sure the inspection has been recorded. The crew foreman who is stationed at the radio must take meticulous notes throughout the inspection and work with the diver to capture every detail.
All this information must then be communicated to whoever is writing the report. This could be an engineer or a technical writer who is responsible for clearly communicating the findings. An underwater inspection report contains detailed summaries, drawings, images, and underwater video documentation to help identify any structural concerns.
Save Money with Preventative Maintenance
Structures on a frequently maintained inspection schedule tend to have more benign findings. Much like a person going to see their doctor for regular check-up faces a smaller risk of issues than a person only seeing a doctor when the issues become serious, keeping up an annual routine inspection schedule helps reduce risks. Changes in conditions can be monitored and managed when routine inspections are performed. In the long-run, it will most likely save money as preventative maintenance will always be cheaper than critical repairs.
Performing periodic underwater inspections remains the most proven way to stay informed of a structure's status. Using knowledgeable divers and a good dive team will provide you with the information you need to avoid being surprised by costly structural failures.