A story of Total Quality Management for an inland marine company.
Harbor Service Advantages of ISO Certification
Since completing the ISO 9001:2015 certification, Brennan Marine now utilizes a certified Total Quality Management system. While it is not required for a harbor service company to achieve ISO certification we have found it gives us advantages we did not have before. Through this process, we have been able to create Harbor-Specific Operating Procedures that encompass safety and the core creeds of quality management into one comprehensive system. Additionally, ISO has paired well with the American Waterways Operators Responsible Carrier Program and Subchapter M regulations.
What Does Being ISO Certified Mean?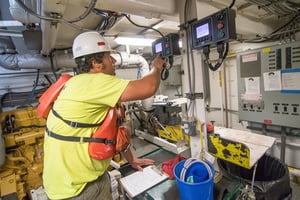 The International Standard for Organization (ISO) is a standard that sets out the requirements for a quality management system. A quality management system is a formal system for documenting processes, procedures, and the responsibilities of a company. Companies use quality management systems to prove to current and potential clients that they can consistently meet customer and regulatory requirements.
What Makes Up ISO Certification
ISO 9001:2015 focuses on seven quality management principles to ensure value:
Customer focus
Leadership
Engagement of people
Process approach
Improvement
Evidence-based decision making
Relationship management.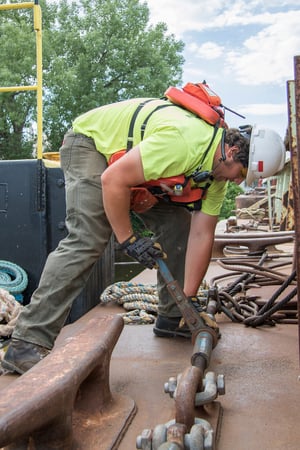 Using these principles as guidelines, we created a clearly written and defined quality management system. Our new system ensures that we meet compliance with any legal, organizational, statutory, and regulatory standard in each step of our work. With ISO certification, we added improved safety initiatives, cost control plans, harbor specific operating plans, maintenance tracking, and operational efficiency.
The main reason we pursued ISO certification is because we believe it will make us a better organization. It requires us to scrutinize ourselves in each of our daily tasks, to always look for improvement, and to eliminate any quality gaps in our work. We also did this for our clients. Some of whom are beginning to require certification from their suppliers. At the end of the day, this will help us serve our clients better. We are now one of the few inland marine companies in the country with an ISO 9001:2015 certification.
The process of becoming ISO 9001 certified is not an easy task.
The Process to Get Certified
It took us nearly three years as we developed procedures to comply with the seven core tenets of the ISO standard. We completely re-wrote our Harbor-Specific Operating Procedures and introduced several new management systems, such as a more thorough vetting of our purchasing. Additionally, while working on this new certification, we were simultaneously maintaining compliance with the U.S. Coast Guard's Subchapter M program and the American Waterways Operators (AWO) Responsible Carrier Program.
Subchapter M
On July 20th of this year, when the Coast Guard is set to introduce the final version of CFR Subchapter M, any vessel longer than 26 feet in length must comply with more strenuous safety-centric rules and regulations. These new rules will take safety standards on towing vessels to new levels.
There are two compliance options for Subchapter M, a Towing Safety Management System (TSMS) or an annual inspection from the U.S. Coast Guard. We have chosen to utilize the TSMS, as we can tie it into our membership in the American Waterways Operators Responsible Carrier Program (AWO-RCP). When it comes to Subchapter M compliance, which may be daunting to many companies, we felt that preparation for these new regulations aided our journey in ISO certification.
American Waterway Operators Responsible Carrier Program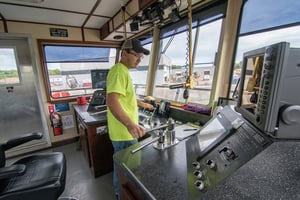 Since 2008 we have been a member of the American Waterway Operators (AWO), which serves as the national advocate for the U.S. tugboat, towboat, and barge industry. As a requirement for us to maintain membership within the AWO, we must maintain compliance with their Responsible Carrier Program. Fortunately, the Responsible Carrier Program serves as a certified TSMS for Subchapter M. As we were already following the quality management guidelines set by the AWO-RCP we had a head start on pursuing ISO compliance.
Why Should an AWO-RCP Company Become ISO Certified?
Having ISO certification serves as an advantage in that it is a world-class quality management system that improves on an already robust system in the AWO-RCP. Both of these systems require aggressive auditing to ensure we remain compliant. Each system is fairly even when it comes to the strictness of achieving and maintaining certification. ISO is broader with its requirements, but the RCP is more specific in its safety demands. Where these two systems differ is ISO requires a total quality management system that covers more than safety. Combine the two, and you cover the most important aspects of running a marine business.