Our Pacific Northwest crew mobilized at a hydroelectric facility to repair a fish guidance net at Upper Baker Dam. Upper Baker Dam is 1 of 2 hydroelectric dams on Baker River, near Concrete, WA. The entire Baker River Hydroelectric Project covers nearly 300 square miles.
Upper Baker Dam, a 312-foot-high concrete gravity dam completed in 1959, has a floating surface collector system responsible for attracting and safely holding juvenile salmon for downstream transport around the dam. We supplied dive and topside support teams to assist the prime contractor with the recovery, disassembly, and installation of a new floatation collar on the existing barrier net. This is an essential repair to ensure safe fish passage around the dam.
Project Referral from Partner
In May 2022, Brennan acquired Harbor Offshore, Inc. (HOI), incorporating the team and its areas of expertise into the Brennan family. Before joining Brennan, the HOI team performed net repairs on the other hydro dam on Upper Baker River (Lower Baker Dam) with partner Pacific Netting Products (PNP).

When net repairs were needed on Upper Baker Dam, and PNP was hired to provide the products for the repairs, they referred their trusted partners to complete the service side of the project. Now being a part of Brennan, our West Coast team worked once again with PNP to successfully complete necessary repairs.
Benefits of Fish Guidance Systems at Hydro Dams
Fish guidance systems at hydro projects are important for wildlife and people. There are numerous types of fish guidance systems; for example, fish ladders, elevators, bypass channels, bio-acoustic fish fences, and nets. The guidance nets, in this case, help provide a safe path for spawning salmon to swim around the dam.
The system itself supports the continuing lifecycle of the fish, maintaining balance within the entire ecosystem. The hydro facility owner of Upper Baker Dam, Puget Sound Energy, wanted to maintain the integrity of the fish guide nets, including the safety of aquatic wildlife, and hired PNP and subsequently Brennan to complete the repairs.
Repairing the Collar and Fish Guidance Net
To begin, we mobilized 2 modular barge configurations. A support barge, to transport and store components; and a repair barge with 3 telehandlers staged to raise and lower components to and from the water.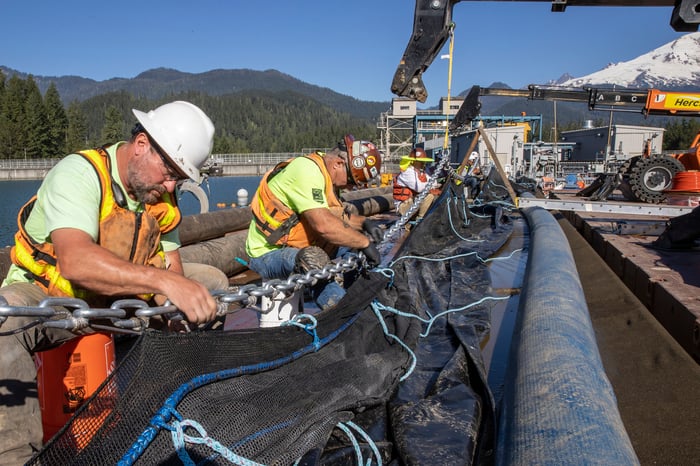 Brennan crew in Concrete, WA modifying and preparing the flotation collar.
We recovered the upper sections of the net and brought them to the deck via telehandlers. After securing a section of the net to the deck, we modified the floatation collar and then launched that section of the net back into the lake in position. We repeated this process over the length of the net. Sleeves connecting the guide net to the static and pneumatic floats were cut and replaced with an improved net sleeve as well.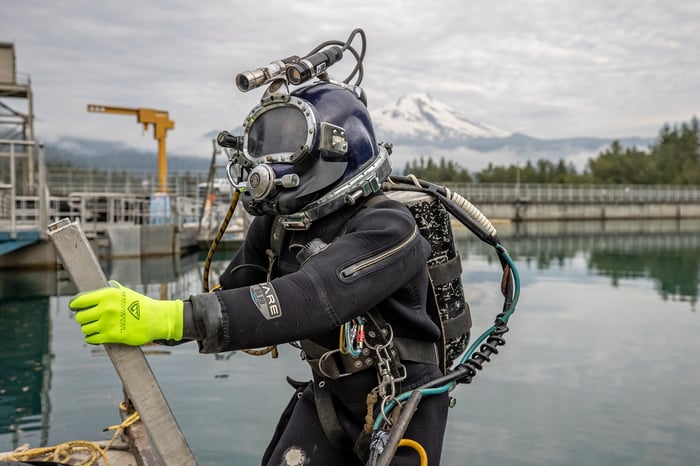 ADCI-certified Brennan commercial diver heading into Baker Lake to evaluate the fish net.
Our crew of 8–10 worked for nearly a month to repair the entire span of the net. The work proved to be mostly topside, with a few days of diving.
Upper Baker Lake (UBL) Guide Net Repair Project Challenges
We encountered challenges during mobilization. This is a remote site, so it took some strategizing to mobilize and assemble 20+ pontoon barge sections and the equipment to the dam with limited cell service. Brennan utilized a satellite system, Starlink®, which was instrumental in improving job site connectivity and communications that Brennan and PNP could both use.
Thank You
Thank you to our onsite divers and topside team members for completing this work safely and on time. Because of your fantastic working relationship and open communication with partners at PNP, we were able to finish the Upper Baker Lake (UBL) Guide Net Repair project on budget and ahead of schedule.
More information on similar work is waiting for you here: Installing a Bio-Acoustic Asian Carp Barrier System
---
About J.F. Brennan Company
J.F. Brennan Company, Inc. (Brennan) is a fourth-generation, family-owned, marine construction firm that specializes in environmental remediation, dam construction, commercial dive, harbor management, and submarine cable services. Working closely with public and private owners of water-based infrastructure since 1919, Brennan operates throughout coastal and inland waterways nationwide.