When we drive across a bridge and see exposed rebar and chipped concrete, we assume the bridge needs attention. We may even wonder whether the bridge is safe. But when it comes to the safety and integrity of a bridge, there is much more at work than what we see above ground. A structure is only as good as its foundation. Beyond the superstructure, how do we ensure the strength and stability of a structure's foundation? One effective solution: helical piles.
What are helical piles used for?
Helical piles are hollow steel tubes that are used to stabilize structures by anchoring the load to the surrounding ground, much like a driven pile. However, helical piles are screwed deeply into the earth, section by section if necessary. They are screwed into the ground until it's proven that the area can properly hold the required bearing capacity of the structure.
Helical piles can be used to create new foundations, to underpin weakening foundations, and to better stabilize existing foundations in preparation for heavier loads.
Other popular names for helical piles:
Screw Piles
Helical Piers
Helical Anchors
Screw Anchors
Screw Cylinder Anchors
Helical Foundations
When to use helical piles?
Helical piles are a perfect foundation anchor solution when soil conditions aren't suitable for the weight of a structure. When soil is soft or oversaturated, it will settle and pack down over time. This can cause the entire structure to move out of alignment, which can be dangerous.
For example, trains can derail if their tracks settle just a few inches. So, it's important to create a solid foundation to keep the entire structure from moving. In our industry, helical piles are particularly useful in the construction and repair of foundations for bridges, railroads, and docks within wetlands, harbors, and weak soil areas.
What is the benefit of using helical piles versus driven piles?
According to the Helical Pile Association, a foundation created using helical piles is preferred over driven piles, drilled shafts, grouted tendons, auger-cast piles, belled piers and other deep foundation systems for a number of reasons: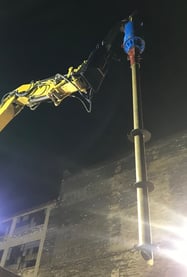 1. Quicker, cleaner installation
2. Can be loaded immediately
3. Elimination of high-mobilization costs associated with driven piles, drilled shafts or auger cast piles
4. Instant torque-to-capacity feedback for production control
5. Easier modification while in the field
6. Higher efficiency in limited access sites, high water tables, and weak surface soils
7. Equipment can be easily fitted with hydraulically-driven torque motors with helical pile installation
Real-world example of helical piles in use
One of our best railroad clients was having issues with one of their railroad tracks misaligning as trains transitioned from a bridge to land. They needed a unique solution and reached out to our team to assess the situation and help determine a plan of action.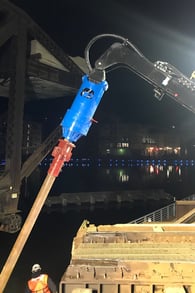 After inspection, we determined that an abutment, which supports one end of the bridge, had settled because the underlying soil was not stable. To properly resolve their railroad foundation issue, we suggested helical piles.
For our client, helical piles were a perfect solution. We proposed that we create a new, deeper foundation and use helical piles to "pin" the existing bridge abutment and foundation to it. Upon approval, we went to work!
Six of our crew members began work on the bridge. We built and underpinned the new addition on the river side of the existing abutment. To do this, we cleared debris and dug back the embankment in front of the old abutment. We then screwed 10 helical piles ranging in length from 72 feet to 108 feet at either 20-degree or 30-degree angles using our high rail excavator. Dowels were then drilled into the existing abutment and square steel plates were welded to the tops of the helical piles. All were tied together using rebar.
Once in place, the new foundation was formed up and we poured concrete using a slick line. When completed, the new foundation added strength to the original structure, which was supported on wood piling.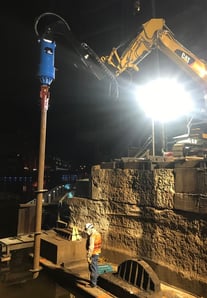 For this railroad project we installed the helical piles using a high rail excavator. Each section was 18 feet in length and would only take about 7 minutes to drill into place. Another section would then be bolted onto the previous 18-foot section and the 7-minute drilling process would begin again until their lengths reach 72 feet or 108 feet.
Final take on helical piles
Whether you refer to them as screw piles, helical piers or screw anchors; helical piles are a relatively quick, economical foundational solution that provide stability and strength to foundations. They especially come in handy when there is structural damage to a foundation, or in our example above, a bridge abutment.
We've had positive experiences in the field using helical foundation systems, how about you?
Have experiences of your own to share? Connect with Brennan here or email us at news@jfbrennan.com.
Read our most popular blog, Cofferdams 101 for more civil education from our team.