Working around water poses a plethora of challenges. There are always two parts of a water-based project, the above and below water sections. Access to the above water section is easy, however when working below the waterline access is not that easy. One of the more apparent issues is what do you do when the water is in the way of your work? One solution is to build a cofferdam.
What is a Cofferdam?
A cofferdam is a structure that retains water and allows a work area to be dewatered so that crews can pour concrete, excavate, repair, weld, etc.
Types of Cofferdams
There are numerous configurations, sizes, and material options when it comes to cofferdams. Below are a few examples:
Box-Type

Braced

Double-walled sheet pile

Cellular

Earthen

Single-walled sheet pile

Portadam™ Systems
Cofferdams can be customized to fit the needs of any project. Each of these systems has their pros and cons, depending on conditions such as site location, site conditions, and price restrictions.
Below we take a look at three types of cofferdams, their construction, and applications:
A Deeper Dig into Cofferdams
Braced Cofferdams
Braced cofferdams are made by vertically driving a single wall of sheet pile around the work area. This type of cofferdam is typically driven into the shape of a box. Struts, or beams, then brace the walls to keep them from collapsing inward, which is where it gets its name. When dewatered, a cofferdam will withstand the force of the water while allowing crews access to the work area. This cofferdam is an excellent choice for bridge pier and abutment repairs. These cofferdams may form confined space work conditions, so it is imperative that they are sized correctly for all the tasks that need to be accomplished for the project. Emergency evacuation should also be planned as it can be very difficult to remove an injured person from a deep, confined space.
Cellular Cofferdams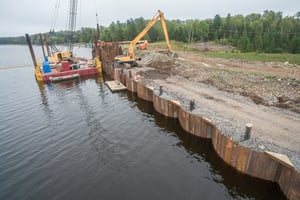 Cellular cofferdams are typically used on larger scale projects, and construction can be a major undertaking. A cellular cofferdam often serves to provide a large work area. Constructing a cellular cofferdam is done by driving sheet piles in a circular pattern, and then repeating this process adjacent to the original to form a series of circular cells. Each of these cells connects to one another and forms a tight seal that prevents water from entering.
There are two types of cellular cofferdams, diaphragm and circular. Diaphragm types are cofferdams with circular arcs at the sides, connected to straight diaphragm walls. Circular types are large circle-shaped cells, connected to one another by slightly smaller circular cells. Projects, where cellular cofferdams come into play, include dam construction projects, barrier walls, and dock facilities. Cellular cofferdams can be left in place as permanent structures. They can also provide crane access to different areas of the work site if a road is built across the top.
Portadam™ Systems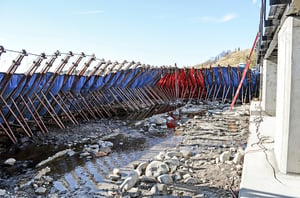 A unique temporary cofferdam option is implementing a Portadam™ system. What sets Portadam™ apart from typical cofferdams is there is no ground penetration required for installation, "thereby minimizing subsurface risk (environmental, cost, and schedule) usually associated with sheet piling."* The frames of the Portadam are assembled and placed on the river or lake bed, framing and enclosing the area that needs to be dewatered. A vinyl fabric membrane and impervious fabric sealing sheet are then placed over the frames and onto the bed, securing the area and allowing the dewatering process to occur. As the units currently reach up to 12 feet high, in areas where the water will not be that deep, a Portadam™ is a potential solution. In our experience, this can be a great solution for low-cost, temporary access to work areas in slack water. One must be very careful if using this in rivers or lakes that have strong currents, drastic fluctuations in water levels, ice, or wind seiches.
*Source: Portadam.com
Staying Safe
There are many risks involved in installing and maintaining an effective cofferdam such as ice flows, current, vessel traffic, rock fissures, flood events, soil conditions and more. When working inside a cofferdam, crews are often in a confined space, meaning an emergency response plan is a must. For the cofferdam itself, maintaining an effective dewatering plan is crucial for successful project completion. By having effective seals and dewatering systems with backups, you can make the difference between the success and failure of a project.
A Tried & True Method
Working around water is going to be an ever-present hurdle for contractors. Fortunately, cofferdams are around to offer a practical, proven method for selectively and temporarily removing water from the work area. Understanding which type of cofferdam is best as well as knowing their strengths and limitations will allow you to complete your project safely and on time.
For more educational content on structural projects, view Helical Piles 101 and see how we help our clients strengthen their foundations.