The Inland Marine Expo (IMX) took place last week in St. Louis, MO, overlapping with National Maritime Day. Conference attendees, exhibitors, keynotes and panelists came together at the Dome at America's Center to educate, celebrate (and sometimes commiserate), the state of the inland marine industry.
Catching up with longtime friends and suppliers is an important theme of the event. But there was no shortage of educational content. Heading home from this year's expo, members of our team recapped notable hot topics and their own personal experiences from IMX 2019.


IMX HOT TOPICS
High Water
In the opening general session by Ken Erikson of IEG Vantage (formerly Informa Economics IEG), it was crystal clear we were all experiencing an unpredictable spring season. From Mississippi River closures to runaway barges, flooding has wreaked havoc on transport along the river.
Being a hub for over $1.78 billion in goods 1 it's unclear how the rest of the year will pan out along the Mississippi, or if our industry will be able to recoup lost time and postponed projects yet this year. Damage caused by record-breaking floods in the Midwest is estimated at $12.5 billion, based on an analysis of damages already incurred and damages still expected by additional flooding.2

Takeaway: Missouri was highlighted specifically and continues to be a target for tornadoes and rising waters. But ALL those working along the Mississippi River are experiencing their share of turbulence in 2019.
Cybersecurity
Cybersecurity isn't just an issue for the likes of Facebook or Google. A panel of experts at IMX this year explained necessary steps the marine industry needs to make as soon as possible to ensure data preservation and uninterrupted operations. Dean Shoultz of MarineCFO emphasized that maritime professionals need to quickly find out where their systems and security processes sit right now on the spectrum of cyber safety.
Takeaway: Before anything else, do an audit. Find out where you're lacking in security and learn how to fix it. There are marine-industry focused tech consultants and firms available to help you audit these processes
Often, internal employees are a company's highest risk. Many unknowingly share account info or proprietary information with third-parties. Or, even worse,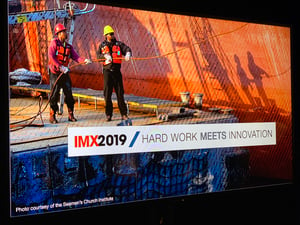 employees become disgruntled and intentionally interfere with company data. Participating in company-wide email awareness training, for instance, will lessen your risk of breach from phishing and ransomware attacks.
Having a cyber insurance policy was also a hot topic. Cybersecurity liability insurance typically isn't covered under normal policies. It's designed to mitigate losses from a variety of cyber incidents, including data breaches, business interruption, and network damage.3 Whether you feel confident in your system security or if you're falling short, having an updated cyber insurance policy is an absolute must.
IMX Awards
IMX offers an annual Achievement Award along with 40 Under 40 Awards to a small group of marine professionals. Nominated by their peers and voted on by The Waterways Journal, this group of individuals was introduced and celebrated on May 22nd, National Maritime Day.
Assistant Vice President-Vessel Operations of Ingram Barge Company Frank Johnson was the winner of the 2019 IMX Achievement Award. Having spent decades in the industry, Frank was introduced by his nominator, the President and CEO of Ingram Barge Company Dave O'Loughlin. It was a heartfelt moment that clearly meant so much to both.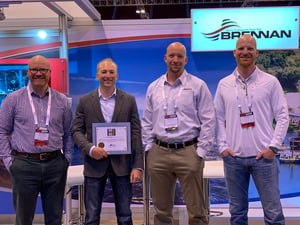 The 40 Under 40 Awards featured "men and women under the age of 40 who have made significant contributions to the inland marine transportation industry and collectively promise to play a big role in shaping its future."4 We were able to recognize our Regional Project Manager Matthew Hogan as he went on stage to accept his award. Matt's been integral in our civil group, running operations throughout the Illinois area.
Takeaway: The future of brown water operations is bright.
The 40 Under 40 awards are a new, two-year tradition at IMX. We'd like to see them continue. It was a great experience for honorees and audience members and was a nice wrap-up to the general session.
INDUSTRY EXPERIENCES
The Inland Marine Expo appropriately promises a trade show and seminars, but overwhelming states that it is "a homecoming for the hard-working and dedicated inland community."5 We'd agree with that.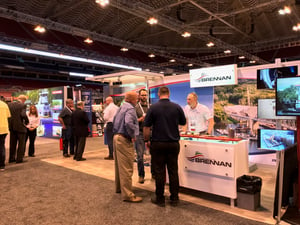 VP of Business Development Mark Binsfeld sums up why IMX is an important part of his annual plan, "This was the sixth time I've attended the show. IMX is a great way to connect with other river professionals. The show tends to draw a wide range of suppliers, contractors, engineers, regulators, and owners of river-based infrastructure. We have made some great connections with new clients over the years and have been able to increase our brand recognition through sponsorship."
Brennan Dive Operations Manager Justin Scherf had a similar experience and found value in connecting with multiple clients he may not have otherwise gotten to see.
"IMX has always been a good resource to reach out to old clients as well as meeting new ones. I spoke with a specific client about our diving services. They knew and had used Brennan in the past but didn't realize that Brennan had a diving division. He was extremely happy to learn this as he had come to rely on Brennan for other projects. Potentially gained some new clients from interactions like this," says Justin.
Takeaway: The inland river industry is a close-knit group of people, yet geographically diverse. Heading to St. Louis every year allows for countless, face-to-face interpersonal conversations.
COO Mike Binsfeld mirrored this sentiment, "IMX is one of only a few chances we get to catch up with everyone - competitors, suppliers, teammates, etc. You really get a good feel for the vibe in the industry when talking to everyone who attends. The most memorable experiences, for me, come from the conversations we have at the cigar bar down the street. I learned the most about the inner workings of the industry over drinks with colleagues and fellow marine professionals."
"I like the after parties that are hosted offsite. Everybody is there to have fun, and it is usually well attended. Every year I meet someone new and learn more about what is happening on the river," says Mark.

Our team was fortunate to send a dense, diverse group to IMX this year and will continue to do so in the future. What did you think of this year's IMX?
Didn't attend? Snag more information here: http://inlandmarineexpo.com/
J.F. Brennan Company, Inc. (Brennan) is a marine solutions company based in La Crosse, WI that specializes in providing services to public and private owners of civil infrastructure. Focused on quality since the company's inception in 1919, Brennan takes pride in successfully working with clients, partners and engineering firms while upholding high levels of integrity, safety and professionalism. The outcome is transparency and efficiency throughout company operations, resulting in a collaborative atmosphere for all stakeholders. For more information on Brennan's innovative marine, environmental, dam, harbor, and railroad solutions, connect by calling at 1-800-658-9027 or visit https://jfbrennan.com.
Sources: