Marine construction firm J.F. Brennan Company (Brennan) is excited to announce the addition of new Senior Estimator, Government Relations and Hydro Operations Manager Christopher Rousseau, P.E., F. ASCE to its team.
"We are fortunate to have Chris join our team," says Vice President of Business Development Mark Binsfeld. "His firsthand knowledge of hydroelectric generation and surrounding regulatory factors will allow us to serve our clients more effectively."
Rousseau will assist in leading Brennan's efforts in becoming the go-to resource for those who own, operate, and maintain hydropower dams and facilities of all types. During his career, he has been involved in all aspects of the hydro industry including construction and repairs, operation and maintenance, regulatory and compliance, project funding, financing, and government relations.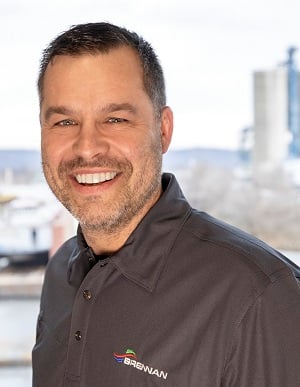 "He will add a dynamic to Brennan that few contractors have. Chris also embodies the culture we work tirelessly to build," concludes Binsfeld.
After beginning his career as an engineering consultant serving both private and municipal clients, Rousseau joins Brennan with more than a decade of additional experience with Minnesota Power. He most recently served Minnesota Power as the Manager of Renewable Business Operations for Hydro and the Hibbard Renewable Energy Center.
Rousseau currently serves on the Board of Directors of the National Hydropower Association (NHA) as well as the association's Legislative Affairs and Marine Energy committees. He is a Fellow-grade member of the American Society of Civil Engineers (ASCE), previously serving as a past Regional Governor and past Section President. He currently chairs ASCE's national-level Infrastructure and Research Policy Committee and has previously served on ASCE's national Public Policy and State Government Relations Committees
---
About J.F. Brennan Company
J.F. Brennan Company, Inc. (Brennan) is a fourth-generation, family-owned, marine construction firm that specializes in environmental remediation, dam construction, commercial dive, harbor management, and submarine cable services. Working closely with public and private owners of water-based infrastructure since 1919, Brennan operates throughout coastal and inland waterways nationwide.