Due to their importance, the condition of water-based structures should never be taken for granted, nor should the methods in which they are inspected. Periodic underwater inspections are crucial to keeping your structure safe and dependable. Make certain that the dive teams you work with have the experience and know-how to provide you with all the information you need to ascertain current conditions of your structures by keeping three simple things in mind:
1. Divers need to be more than just divers - they need to have underwater construction experience
2. Reports must be clear, concise, and transparent - use a combination of options to analyze the condition of your structure.
3. There is always more than one solution to every problem - your dive team should be able to suggest a few effective solutions.
1. Divers need to be more than just divers

Have you ever had an inspection done by a diver who was not familiar with the structures in which he or she was inspecting? This is not an unusual experience for many railroads, utilities, or paper mills. Often times, to give clients a bit more confidence, many firms put a licensed PE in the boat to oversee the underwater inspection. This does not translate to a higher quality inspection, only a more detailed analysis of available information. To ensure you are getting the most for your investment, make sure that the divers have the necessary experience to conduct a thorough investigation of each area of concern.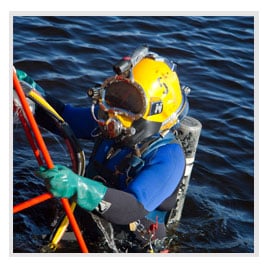 How do you know when you may be relying on an inexperienced diver? Simple! There are several things you can look for during the interview and bidding process. First, if you are dealing directly with a dive firm, ask them about their construction experience. Do they only focus on inspections and salvage, or can they actually carry out the underwater repairs? An inexperienced diver may see a large void, but could have trouble discerning areas of weak and degraded concrete and masonry.
Second, ask the dive firm or engineer you are working with to provide credentials. Are they certified to carry out the inspection? Have they done this type of work in the past? How long have they been inspecting structures? This seems like an easy step, but is often overlooked when working with an engineering firm. In this case divers are usually subcontracted to perform the inspection. Remember, the PE is typically in the boat, not doing the inspection.
Finally, although price is always a factor, do not forget about value. If you are getting a PE and dive crew for fraction of your budget, red flags should be going up. This is usually a sure sign that the divers are temporarily subcontracted to carry out the inspection and have little experience to back up their methods. As the old saying goes, "You get what you pay for".
2. Reports must be clear, concise, and transparent

Unless you are doing your own diving, you could be at the mercy of the diver inspecting your structure. He or she is your "eyes underwater" and must provide you with the information you need to effectively repair your structure. Don't be left with just a short description of the dive, make sure you have video, drawings, photos, etc.
Also, make certain you or your engineer has access to the dive operation while it is underway. If the water is clear enough you should have a live video and audio feed to see what the diver sees. You should be able to talk with the diver and the attendant and be part of the process.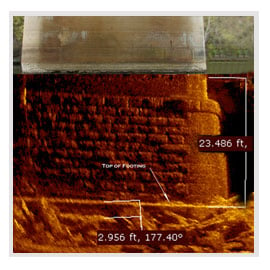 Finally, an underwater inspection should not only be confined to just diving. There are several tools that can complement a dive to provide a complete picture of the current condition of any structure. For instance, sector scans can provide underwater imaging in even the most turbid conditions, ROVs can access hard-to-reach areas or be used in hazardous conditions, and finally bathymetric surveys can be used to model channel bottoms and submerged structures. Confirm whether or not your dive firm is offering you several options.

3. There is always more than one solution to every problem

As any engineer will tell you, there is always more than one solution to every problem. However, make certain you have the information to determine which one is BEST! This is where a diver with underwater construction experience becomes so important. When the inspection is complete, and you have the report in hand, does it have a section outlining recommended solutions? A diver with construction experience can provide you with a few suggestions on how to fix the problem, and usually recommend one that will be the most cost effective.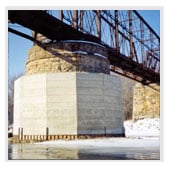 Reduce the number of unknowns by using a diver that can actually carry out the repairs. So many dive firms have experienced divers, but not individuals with underwater construction experience. Save yourself the time and headaches and select a firm that specializes in not only diving, but underwater construction and inspection.