The Bureau of Labor Statistics classifies a dredge operator as a person who removes sand, gravel, or other material in order to excavate and maintain navigable channels in waterways. In the industry, we call the dredge operator a leverman. This is a historical remnant of the days when the pilothouse, or lever room, was full of mechanical levers that controlled various parts of the dredge. The levers eventually gave way to computerized control systems...
Hydraulic dredging is similar to land-based excavation when it comes to production. The faster you can dig and transport material, the better your production. Better production means efficiency, which leads to cost savings.
The biggest difference between dredging and land-based excavation is the importance in keeping the equipment running. If the dredge shuts down, the entire project shuts down. It is not like a land-based excavation where if an excavator breaks down you can easily bring in a replacement. Dredges are highly customized, and there is a very limited rental market. Emergency repairs and even periodic maintenance have to be done quickly to minimize dredge downtime. In essence, we do not shut down the dredge unless we have to.
A leverman plays a critical role in the success of a dredging project, because he or she has to maximize production, hit designated digging depths, and operate the dredge in such a way that we can minimize downtime. Here is a look at a typical day in the life of a leverman.
A Day on a Dredge
The hours worked on a dredge can range from a traditional 8-hour shift to a more demanding 12-hour shift. While the dredge is running, the dredge operator sits in the lever room. Within the cab are an assortment of screens, location, levers, and switches. These provide you with information such as dredge location, cutterhead positioning, spud control, system pressures, and engine metrics. All these tools help provide an accurate picture of what is happening real-time with the dredge.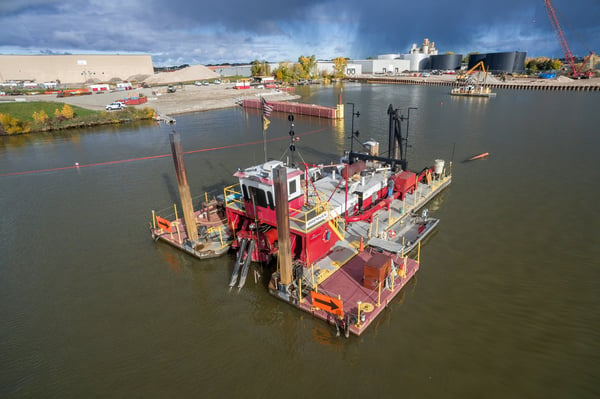 Fortunately, a dredge operator does not work alone. Essential crewmembers are working alongside you. On our larger dredges, oilers function as the eyes and ears of the machinery. He or she essentially functions as a deckhand and will work to keep the engines and hydraulics running smoothly. If the dredge has to shut down, the oiler will spring to action to assist the leverman in whatever may be the cause. Anything from a clogged cutterhead to a broken winch cable, the oiler provides critical aid in getting the dredge back up and running.
Hydrographic survey crews provide the leverman crucial information on the work both ahead and behind him or her. They constantly gather data points to build real-time 3D models, so the leverman knows the width and depth of the cut ahead, as well as whether or not he or she met grade on what has been dredged already.
Meanwhile, other crewmembers such as the foreman, tankerman, and support crews help with moving pipelines, refueling, maintenance, cleaning the cutterhead, running booster pumps and whatever else it takes to keep the dredge running.
Job Responsibilities
Your typical dredge operator is never doing just one task. The ability to multi-task is essential, and it is not an easy job. The leverman has to have the ability to monitor and control all the different moving parts. This includes raising and lowering the spuds, controlling the cutterhead, and monitoring the transport pipeline pressures, all while maximizing production. He or she also must keep an eye on the numerous screens that represent all the critical parts of the dredge. He or she must also be able to communicate via marine radio to nearby vessels and maritime authorities.
Necessary Skills
There are several attributes necessary to become a good leverman. Arguably the most important is having a mechanical savvy. Dredge operators work on a moving machine in water; if anything were to go wrong, an operator leads the charge in making sure the dredge gets back in working order. There are also leadership qualities that make up a well-rounded skill set. For instance, an operator must possess critical thinking skills. Strong judgment and decision making skills are also crucial, and so is communication.
A leverman must be able to communicate effectively will all members of his or her team. Being concise and clear in all situations goes a long way towards maintaining production and preventing accidents. Also, long work hours require a high-stress tolerance. A 12-hour shift is not uncommon for our dredge operators, and long days combined with high-pressure situations are tiring work. It takes a strong will to keep focused on the job at hand, all day, every day.
Training Timeline
The timeline to become a leverman can vary because it requires a lot of on-the-job training. The most important skills that a person can gain come from experience by working in the field as part of the support crew. Starting off as an oiler or booster operator will allow one to get firsthand knowledge of how the entire system works. From there a person spends several days in the leverman chair under the tutelage of a foreman who has ample experience running a dredge. From this point, a leverman will continuously fine-tune his or her skill set and take on new challenges as they are unexpectedly encountered.
The work of a dredge operator is demanding. Such a high demand may explain why there are only an estimated 1,410 operators in the United States according to the Bureau of Labor Statistics. A hydraulic dredging system is complicated and has several moving parts, but a knowledgeable leverman surrounded by a good support crew make companies like us stand out from the competition.