We're nearly halfway through 2019, and unless you've been in a cave or under a rock, you understand that the environmental market is exploding right now. I have been in the environmental industry for 32 years (wow that's a long time), and I do not believe I have ever experienced this much activity. The size, scopes, and complexities of our current projects are overwhelming. J.F Brennan Company (Brennan) is extremely fortunate to have a very busy, robust workload this year with some exciting projects underway, and more that are set to begin once fish windows open. Based on our own surplus of work and activity, I wanted to share my observations and discuss the current state of the environmental community from a dredging contractor's perspective.
Record Workloads in 2019
The largest mobilization event in Brennan's 100-year history transpired this year. To give you an idea of our workload, we are projected to dredge over 1 million cubic yards of material and scheduled to cap over 25 acres; utilizing sand, gravel, stone, as well as Granular Activated Carbon (GAC) and Organoclay. On one singular project, we have over 36,000 square feet of sectional barges in use simply to support the dredging and capping operations; and on another site we have four hydraulic dredges operating in tandem to meet the demands of the project. With so much happening, I have been contacting engineers, consultants, and owners, encouraging them to engage contractors early for pending projects.
From my standpoint, I get very frustrated when I have to say to a client, "this is a great project and we'd love to do the work, but we are just too busy." If contractors like us are aware of a project and its corresponding timeline early in your planning process, we can better manage our resources to prioritize your project. By engaging contractors as early as possible, an owner will begin to understand the industry's capacity to provide competitive pricing and quality work. Good contractors have strong backlogs, and will turn down work if they are concerned with overextending themselves. The last thing we want to see happen with a potential client is for them to have a great project, develop a list of qualified contractors, and yet only receive one or two bids that are way over their budget due to unavailability.
I have already seen several examples of this as some owners have had to cancel or postpone their projects to start next season. Since there are so many dredging projects that are dependent on fish windows, this can become a big problem.
Here are some of the challenges we are facing:
1. Equipment availability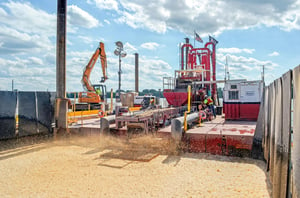 Due to the extent of work going on in the dredging and construction industry in general, several problems and concerns have developed. Availability of equipment – particularly specialized equipment – has become a major issue. The ability to purchase or lease equipment is causing costly delays in the procurement and mobilization process. In some cases, equipment availability may be as far as six months out or could even be completely unavailable.
I experienced this myself recently when a notice to proceed (NPT) was delayed because of issues outside the owner's control, causing even longer delays when locking in equipment. Typically, this isn't a devastating problem, but the owner still wanted to maintain the original schedule based on seasonal constraints and fish windows. In the past, a contractor could put a hold on equipment in preparation for mobilization. However, now due to equipment demand, accessing the right equipment has become less of a certainty.
2. Skilled labor shortages
Sourcing trained, skilled talent is a crippling issue for every business owner. In the dredging and construction industry, it has become extremely difficult to find and maintain an experienced and qualified labor force. A large portion of the workforce is approaching retirement, and there is a lack of interest in the trades from those who are entering. Where can we find relief? Union contractors can take advantage of trained and qualified personnel provided by the local labor halls.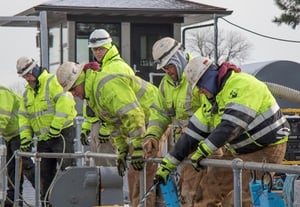 To keep up with demand, unions are pushing hard to attract young people and provide state-of-the-art training and resources not available in the past. Additionally, there is a major push to increase and expand vocational schools; providing an option for people to get training and move directly into high-paying jobs without having large college loans or debt.
Attracting and retaining qualified and experienced engineers, project managers, and site superintendents is a constant struggle, especially for a company that works all over the country and requires employees to travel for extended periods. We work hard to offer competitive compensation and provide a good work-life balance because it is vital in keeping our key people.
3. Engineering demand
It's not just us contractors, owners and government agencies are also feeling the pinch. The supply of opportunities and the increased demand for consultants and engineers is also a problem. Experienced owners require consultants to not only provide the names and resumes of the people working on a project, but to disclose the percentage of time that each person will dedicate to the project. Owners should confirm that the consultant or engineer they contract has the experience and resources to support their needs. Understanding the true dynamics and design issues of a sediment project should not be taken lightly. The learning curve for a dredging project could be costly for the owner and contractor if it's not designed and implemented properly.
Dredging and capping are very complicated processes, becoming even more so with new concepts in design, lessons learned, products, technologies, and regulatory changes. On land, a contractor can see what they are doing, and the ground underneath does not move. Work on the water requires a very specific skill set and is only mastered through experience. Owners and their consultants should accurately evaluate and develop prerequisite qualifications for their contractors before the selection process, unless you don't mind someone learning on your project (which gets expensive).
Lastly
Based on the 2019 environmental happenings as I see it, my advice to owners and engineers is to engage contractors as early as possible and be an informed consumer. Do your research. Based on your timeline, be prepared for some tough decisions when it comes to the quality and quantity of RFQ responses that you expect. Your schedule and budget could be greatly affected based strictly on supply and demand this year, so prepare for delays and an overall increase in the cost of a project.
If you have questions for me or if you are looking for someone to discuss these topics with, drop me a line and connect. This year is definitely going to be one for the books!