When considering our infrastructure often times our inland waterways are forgotten. What most people may not know is that barge transportation is as important as railways or highways. Barges are responsible for moving more than 60% of grain exports throughout the United States. Barge transportation is a very efficient mode of moving bulk materials such as grains, coal, and other commodities. As stated by the National Waterways Foundation 1,750 short tons of dry cargo fit into one barge which is otherwise 16 rail cars or 70 trucks.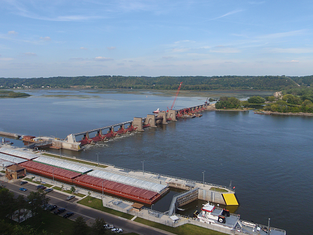 Currently the U.S. Army Corps of Engineers is looking to reduce operating hours at 63 locks because of reduced federal funding for operation and maintenance. A reduction in operating hours would only further heighten congestion, stall barge traffic, and delay delivery time of commodities transported via the inland waterways.
Current project delays and budget overruns are resulting in delayed starts and loss of funding for other projects. This puts locks at risk of further deterioration and possible closures. Lock failures would cause a diversion of barge traffic to rail or long haul truck however the increase in transportation costs would offset the advantage of Midwestern producers. Whether the lock closure lasts for two weeks or one year, the total volume of grain transported is decreased. According to an analysis of six focus locks conducted by Texas Transportation Institute, a lock failure could cost producers anywhere from $900,000 to $45 million and barge companies could lose between $2.2 million and $162.9 million in revenues contingent on length of closure. Furthermore, utilizing rail and truck would deplete our infrastructure and increase costs to our economy. As it is over half of America's federal-aid highways are considered to be in less than satisfactory condition.
In a hypothetical case study done by Texas Transportation Institute, if the Mississippi and Illinois Rivers were shut down in the vicinity of St. Louis, highway costs would increase from $345 million over $721 million over 10 years. Truck traffic would increase by 200%, traffic delays would increase by nearly 500%, and maintenance costs would increase by 80-93%.
It is evident that our inland waterways play an important role in our economy. Here in the Midwest where grain is our primary export it is especially important that our locks and dams are maintained for the success of our economy and farmers.