J.F. Brennan Company, Inc. (Brennan) recently won a contract with AECOM Energy and Construction (AECOM) for remediation work on LaGrange Lock and Dam on the Illinois River. The contract required us to partake in major gate and concrete rehab while supplying wireless internet access not only to our own Brennan office trailers, but also to prime contractor AECOM and the United States Army Corps of Engineers (USACE) for the duration of the multi-year project.
Lack of Wireless Infrastructure at Dams
From experience, Brennan knew there were no high-speed wireless internet options in the area. With the major rehab project coming up, we needed to find a solution so our crew could easily connect. We investigated cell towers, providers, and satellite internet solutions, too; all available options were unmanageably slow. So, being Brennan, we started thinking outside the box.
Brennan IT worked with the site's survey crew to test the signal strength of Verizon®, US Cellular®, and AT&T® around the LaGrange project site. Tests confirmed very little cellular signal strength at LaGrange, with the best signal allowing downloads of approximately 5 megabytes per second (Mbps) and uploads of 1 Mbps. For reference, Brennan's La Crosse office currently operates at speeds of 200 Mbps—5 Mbps wasn't going to cut it.
Every person and company we talked to about providing high-speed internet to the LaGrange Lock and Dam site arrived at the same conclusion: nothing is available. Even the lockmaster was resigned that the best possible internet speed at LaGrange was only 1.54 Mbps (again, our offices run at 200 Mbps).
Going back to the drawing board, we realized that the remaining high-speed solution might be to find a "fixed wireless" provider. Simply put, fixed wireless provides broadband internet access to a single location through radio waves, eliminating the need for phone, cable, or fiber optic lines. CASSCOMM, the closest high-speed internet service provider (ISP), told us that they did not have equipment in place to provide a wireless connection over the 8.4 MI from Beardstown to LaGrange.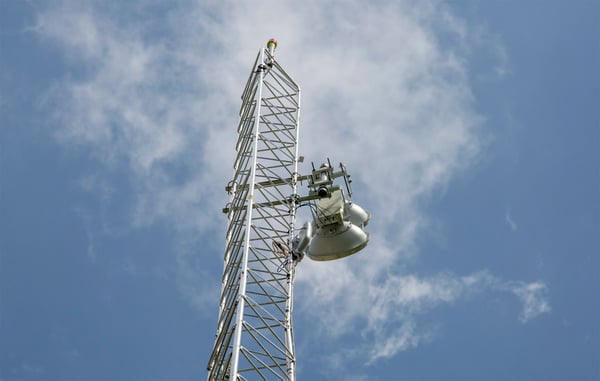 Rural Wireless Internet Access: Thinking in High Speed
That's when things got interesting! Brennan IT dug deep and recalled a contact we'd been preserving for a situation exactly like this. We reached out to TELECO, a company which provides radio frequency engineering, products, and solutions. After several meetings with Brennan, AECOM, USACE, and CASSCOMM, we decided that Brennan would engineer and build our own fixed wireless solution.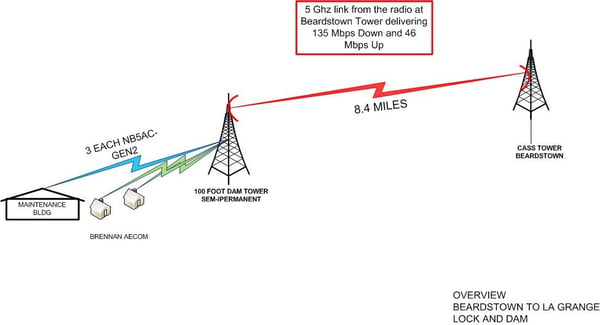 Our Plan:
Erect a 100‑FT tower at the LaGrange Lock and Dam to connect to CASSCOMM's tower, 8.4 MI to the north
Dig and place concrete for the communications tower foundation
Provide electrical connections for the tower
Erect the tower and install radios and antennas at 90 FT
Install routers and switches, and configure network
Install radios and antennas at 120 FT at the CASSCOMM Beardstown tower
Connect to CASSCOMM's fiber optic wireless infrastructure
Align antennas between the Beardstown and LaGrange Lock and Dam towers
Test the remote data link and start the internet feed
Test internet connectivity at the LaGrange tower
Install antennas on Brennan, AECOM, and USACE project trailers and offices
Push wireless internet signal from the communications tower to each individual office
Test wireless internet access and connectivity inside each office
Run wireless internet speed tests to ensure proper configuration and throughput
New Wireless Infrastructure: Lessons Learned
Internet communication has been a key factor in the success of the LaGrange Lock and Dam project. As such, the small cost of the radio equipment compared to the overall project cost is worth the investment.


The inability to pour a tower foundation due to high floodwater was a critical factor that delayed erecting the tower. Today, the 100‑FT tower is extremely stable; it will stand for many years beyond the initial expectation.


If we undertake future projects similar to the one at LaGrange Lock and Dam, we may want to invest in a portable mobile tower solution.
With current speeds of 135 Mbps, internet performance at LaGrange is above everyone's requirements and expectations —drastically surpassing previous speeds of 1.54 Mbps.
With wireless internet speeds rivaling that of some of our stationary offices, Brennan's LaGrange IT and project management team achieved something that seemed impossible only months ago. In fact, the USACE already reached out for information on additional internet support on other Lock and Dam sites.