Getting Your Money's Worth
At Brennan, training is the backbone of our safety program, and we have come to discover a high return on investment by bringing much of our training in-house. Doing this helps us prepare our workforce for our unique work features, which in the long run, lowers our Experience Modification Rate (EMR). A company's EMR is a number used by insurance companies to determine the past cost of injuries and any future chance of risks. The lower your EMR number, the better your standing compared to similar companies. The average industry EMR rating is 1.00, so companies that can get a lower rate than this save money when it comes to insurance premiums (not to mention savings associated with eliminating workplace injuries). When taking into account the number of manhours we work each year, our current EMR of .52 translates to a savings of up to $400,000! We believe one of the reasons we achieve such a low EMR is because we focus on quality when it comes to training.
Great companies have cultures that put their employees' safety above all else, and the best course of action to accomplish this is proper training. Of course, you want to get the most out of each training session. At Brennan, we have a dedicated employee training center where we organize several types of courses, including skills-based compliance, hazard recognition, and most importantly, leadership.
The House Always Wins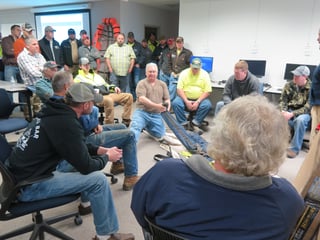 We believe it is an advantage to do in-house training because of the value of bringing our employees together to discuss the specific hazards of our unique workplaces. Being able to engage a workforce effectively during training has turned into many problem-solving sessions for us, and often leads to major policy changes. While training employees, it is imperative to have an open forum where they will be able to communicate effectively about the hazards they encounter, the specific equipment they operate, and the people with whom they work. How many times do companies take a couple of workers and enroll them in a random fall protection class just to check a box? If you send a heavy civil contractor to a session put on by vertical builders, we bet he or she will not receive a lot of value because the training is not relevant to his or her work. The largest advantage to in-house training is tailoring a program to your specific needs.
Webpage Not Available
We do little internet training at Brennan unless a client specifically requires it. While the content can be informative, it is not particularly engaging. If you are going to pay for an employee's time, you need to maximize the value of the training and give him or her a venue where he or she can contribute to your program. We cannot stress enough how many ideas and changes we have had come out of our training programs from engaged employees eager to make the work environment safer, more productive, and more efficient.
State of the Union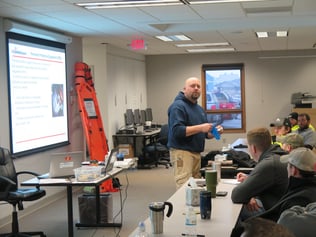 We are signatory to several unions and work with them to recognize our company-specific training, and we highly value the skills training and reinforcement that they can provide to us. We share training content, resources, and ideas with them so we can mutually improve in our curriculum.
Safety Check
Training costs money up front, but it will pay off in spades in the end. Lowering your EMR will result directly in lower insurance costs, not to mention fewer injuries result in fewer worker's compensation claims. Invest in proper training, and it won't take long to realize a real return!