By Michael Cannell—Quality and Safety Manager
As construction projects pick up speed across the country, so do construction- and safety-related news stories. It's important to ask: What is J.F. Brennan Company, Inc. (Brennan) doing to ensure the safety of our team? And, can we increase safety measures without sacrificing productivity?
Simply put, safety is our top priority. Our people—our family—are our most important assets. With ever-evolving technology at our fingertips, we remain steadfast in innovating safety measures and analyzing our own statistics internally to prevent incidents.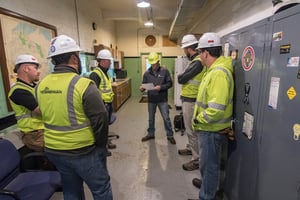 Technology has, sometimes arguably, made our lives better and easier. Many of us can recall wrestling with paper maps for directions. We also remember carrying clipboards while recording copious amounts of information, only to find ourselves spending inordinate hours painstakingly transferring these "chicken scratches" into a computer database.
Here we are in 2019, and all our maps are available on phones and tablets. These devices talk to us, providing turn-by-turn directions, traffic conditions, and even the weather ahead. At Brennan, we've adopted similar technology to help facilitate paperwork, and most importantly, our safety efforts.
We began with a program that enabled and encouraged our employees to focus on job site safety by submitting safety-based observations to spark conversations on deficiencies. Initially, this process was cumbersome because it involved the tedious undertaking of defining and managing a paper trail for each individual activity and submission.
Over time, a full-featured software system developed, replacing the traditional, desk-bound paperwork method with easily portable tablets and smartphones.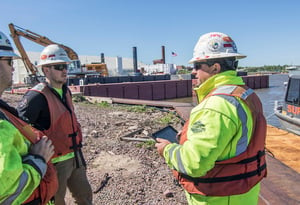 To develop a system that fit our needs, we partnered with Heavy Construction Systems Specialists (HCSS). We worked in tandem, aiding in the professional development of a mobile safety application that provides a wide range of capabilities.
Currently, the app assists our field safety professionals in more easily:
Preparing, managing, and documenting safety meetings.
Analyzing potential job hazards that we can then use as a training tool.
Managing recurring and non-recurring training records and certifications.
Creating reports to investigate near-misses and incidents.
Performing and documenting site, personnel, and equipment inspections.
Our safety app gives managers a real-time view of critical task performance across the organization. It also provides valuable metrics for each job and individual user. Enhanced reporting capabilities drive continuous improvements in our safety processes, increase our ability to make better-informed decisions, and allow efficient coordination with our project partners and clients. Best of all, the vast reduction in physical paperwork and time required to submit observations prompted increased buy-in and motivated app use.
Submitting an observation is no longer viewed as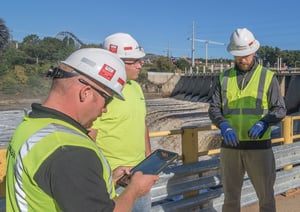 an ancillary, time-consuming task but as a critical and useful job component. It has evolved to become a source of recognition and praise for those who have pushed the company to make changes and inspire innovations.
Over the last three years, we have witnessed monumental improvements in our safety program as our employees adapted to using new technologies such as mobile devices and customized software for recording and addressing safety-related activities.
The following overview illustrates utilization of our mobile app; in each case, we see an upward trend in participation.
| | | |
| --- | --- | --- |
| Activity | 2017 Submissions | 2018 Submissions |
| Safety Based Observations | 4,003 | 4,617 |
| Safety Meetings | 5,046 | 5,417 |
| Site and Equipment Inspections | 6,368 | 12,488 |
| Job Hazard Analysis | 511 | 748 |

At Brennan, we like to refer to ourselves as living on the leading edge of technology. New technology, especially mobile tech, helps make us more efficient. It enables us to make better-informed decisions and expedite positive change in the way we work. Using new software and mobile devices undeniably allows us to enhance our safety culture by putting the ability to make an impact—not only in safety measures but across our entire organization—in the hands of every employee.
For more information on our quality and safety programs, view our new Environmental Management Program blog.
Michael Cannell began his career in the United States Marine Corps. With decades of experience, Cannell started as a Site Safety Manager at J.F. Brennan Company, Inc in 2015. He is a dedicated health and safety professional with an extensive background in high-hazard working environments. Cannell is skilled in the facilitation of safety and regulation enforcement across a variety of fields and settings, specializing in the construction industry.