February 6, 2023 — Specialty marine contractor J.F. Brennan Company, Inc. (Brennan) recently finalized the asset acquisition of the dredging and dewatering division of Infrastructure Alternatives, Inc. (IAI). The purchase brings dewatering, water treatment, and treatability testing services into the organization for the first time.
Environmental services account for 50% of Brennan's work. By adding dewatering and water treatment to their offerings, it increases the accessibility of remediation services nationwide subsequently improving the quality of waterways and the environment.
"We are excited for IAI's specialists to join the Brennan family," says Vice President of Environmental Services Greg Smith. "IAI has been a strategic partner for us on sediment remediation projects for decades. There is no doubt that their expertise in water treatment and dewatering will strengthen our ability to remediate contaminated sites across the country."
IAI President & CEO Dana Trierweiler says, "J.F. Brennan Company has been a long-standing, trusted teammate of IAI for nearly two decades. We have complemented each other's services on several successful projects together, and IAI is very proud of that. We're confident that IAI's former dredging & sediment dewatering team will be well taken care of at Brennan; they are true professionals."
With the acquisition, Brennan welcomes 30 new team members in both union and non-union roles, along with a complete collection of dewatering and water treatment equipment. The company has invested heavily in dredging and sediment remediation services since the late 1980s.
"Now that we're offering water treatment services in-house, our environmental remediation, restoration, and coastal resiliency clients will experience enhanced project scheduling and coordination, and even more competitive pricing," says Director of Business Development Andrew Timmis.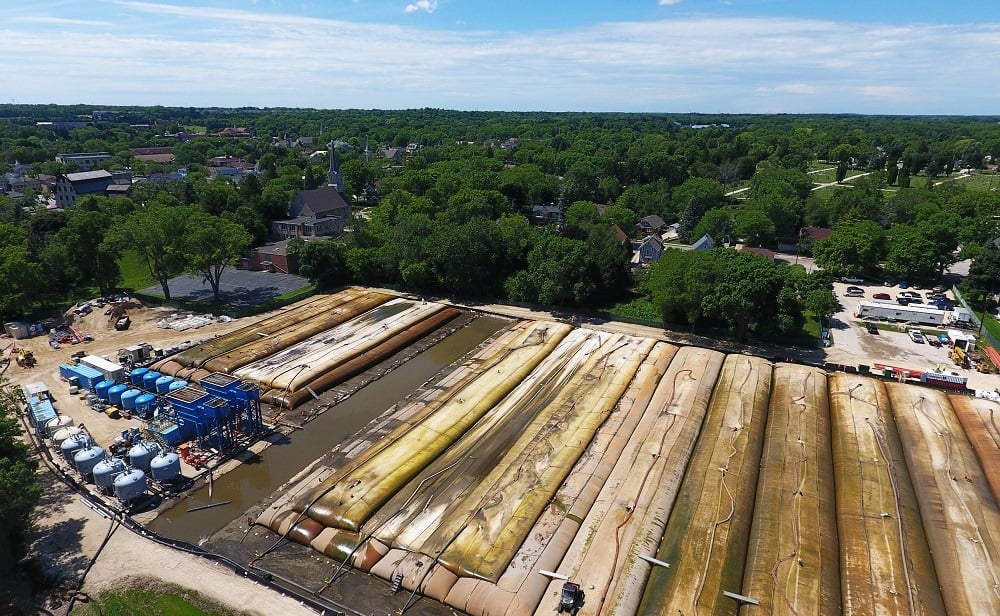 IAI Geotextile tubes and water treatment equipment during dewatering operations onsite.
Michigan-based IAI has operated successfully since 2000. "IAI will continue uninterrupted, with a renewed sense of purpose and focus on the services that have been the bedrock of our company: contract operations, engineering, and mechanical support for water and wastewater utilities," says Trierweiler
Team members making the transition from IAI to Brennan are anticipating future success as they merge their expertise with the Brennan team. "I look forward to bringing the full strength of our team's water treatment and sediment dewatering capabilities to Brennan and working together to reach our professional and business goals," says Senior Director Paul Stage.
Senior Business Development Manager Randy Pit says, "I am excited to work more closely with the people at Brennan and tackle new challenges with our combined strengths."
Brennan's acquisition of IAI's dredging and dewatering division became final on February 1, 2023.
---
About J.F. Brennan Company
J.F. Brennan Company, Inc. (Brennan) is a fourth-generation, family-owned, marine construction firm that specializes in environmental remediation, dam construction, commercial dive, harbor management, and submarine cable services. Working closely with public and private owners of water-based infrastructure since 1919, Brennan operates throughout coastal and inland waterways nationwide.
About Infrastructure Alternatives, Inc.
Infrastructure Alternatives, Inc. (IAI) provides contract operations, maintenance, and management services for water and wastewater utilities, for municipal governments, industries, and private communities in Michigan and Wisconsin.