J.F. Brennan Company, Inc. (Brennan) announces the promotion of Christopher Rousseau, P.E., F. ASCE to Hydro and Renewable Energy Market Leader. Rousseau's promotion is announced concurrently with Brennan's strategic objective to further invest in renewable energy development.
Rousseau will use decades of experience in hydroelectric generation working for Midwest-based utility, Minnesota Power, to support the repair and rehabilitation needs of Brennan's hydro dam clients. Catering to a huge need for early contractor involvement; Rousseau is bridging the gap between hydroelectric dam owners, engineers, and the contractor teams that perform inspections, maintenance, and rehabilitation work.
"Our commitment to alternative project delivery methods, including CM/GC, and other forms of early contractor involvement, means we're uniquely prepared to serve hydro asset owners in all aspects," says Rousseau.
Rousseau currently sits on the National Hydropower Association (NHA) Board of Directors, where he works closely with hydro users across the country in promoting the nation's largest source of green energy. "We are committed to strengthening market focus within the hydropower and renewable energy industry," concludes Rousseau.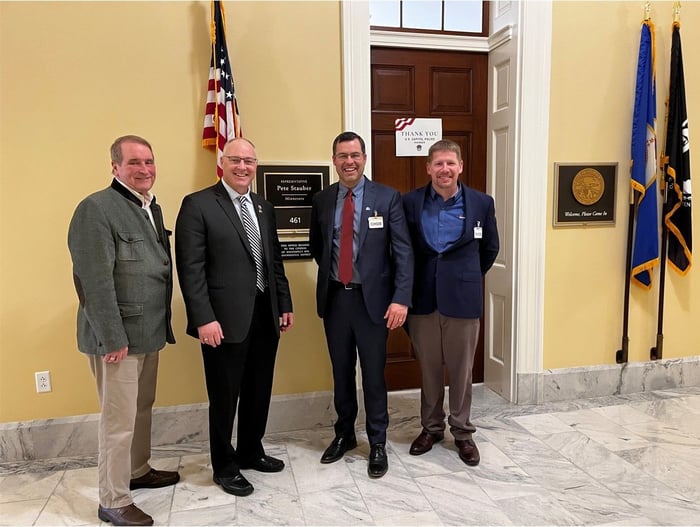 Brennan's Chris Rousseau and Rory Alsberg meeting with Congressman Pete Stauber in Washington, D.C. during Waterpower Week.
Brennan's Senior Business Development Manager Rory Alsberg will also continue to provide dam construction leadership nationwide.
"Chris, Rory, and our team are devoted to an exceptional client experience. With Chris in this role, we can foster further innovation within the design and construction process," says Vice President of Business Development Mark Binsfeld.
Investing in climate change resiliency and renewable energy services is a priority for Brennan. In the past year, the company expanded coast-to-coast, doubling down on coastal resiliency, environmental remediation, water treatment, hydropower, and offshore wind initiatives.
---
About J.F. Brennan Company
J.F. Brennan Company, Inc. (Brennan) is a fourth-generation, family-owned, marine construction firm that specializes in environmental remediation, dam construction, commercial dive, harbor management, and submarine cable services. Working closely with public and private owners of water-based infrastructure since 1919, Brennan operates throughout coastal and inland waterways nationwide.