One of the key elements that all construction companies will face is how to prepare their crews for potential emergency situations at remote worksites. As a
Health and Safety
manager, an everyday important component for managing the safety of its crews, regardless of their size, is preparing them for potential emergency situations. There are many considerations that go into to each unique job and each must be analyzed separately.
Therefore, it's important to be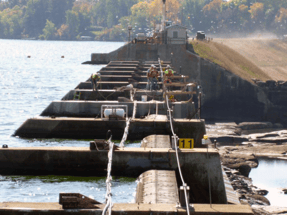 involved in every stage of the work activity. Get involved during pre construction meetings and during job startup to become more familiar with the scope of work and the environment. It's important to visit the jobsite during the initial stages of construction to analyze what types of emergency scenarios can be predicted. After that, regular site visits and updates from the site will help identify new or existing concerns and issues. Below are three key elements to consider when preparing for emergencies at remote worksites.
1. Identify and anticipate potential hazardous conditions relevant to the site
Adverse Weather – Is there likelihood for tornadoes, temperatures extremes, strong winds, flooding, snow storms?
Air quality or Visibility issues – will this play a factor and increase the danger of the tasks being performed?
Potentially hazardous tasks being performed – Is the work being performed in a dangerous environment or one that has various exposures?
Size of the crew and worksite – Is the site large and spread out and are there enough people around to know if someone is missing or needs emergency care?
Methods of communication – if emergency assistance is needed, how will you contact responders or other crew members? Are 2-way radios available or do cell phones have service?
Response time – In remote locations, the time it takes for responders to arrive might be lengthy. Are you able to respond to an emergency until responders arrive?
Difficult access to worksite – Accessibility for emergency responders may be an issue. Are you familiar with the area and can direct responders to your location if needed and no address is available?
2. Analyze each situation that might lead to an emergency
What emergency supplies may be needed in this scenario?
What is the likelihood and severity of the potential incidents?
Do they have a safe storm shelter or a place to hide from the elements?
What are the surrounding conditions? Does the worksite present additional chemical or biological hazards?
What type of emergency evacuation equipment should be available?
How should we respond and where do we go in case of a fire?
Talk to the crews and get input about what concerns they may have.
3. Prepare the site and workers with the appropriate training and supplies
Have crews trained in CPR/AED and First Aid
Locate an emergency shelter or safe location close to the work area
Make the necessary equipment readily available - Fire extinguishers, spill kits, first aid kits, trauma kits, backboards, stokes basket, emergency rescue equipment.
Identify phone numbers of local emergency responders, the closest hospital and an emergency plan if something occurs.
Lastly, prepare crews for emergency situations and provide them with the appropriate tools to respond to various situations.