Traditionally when it comes to installing sheet piling around a bridge pier or along an embankment we think of steel sheet piling. Steel sheet piling are the most common, and have been one of the most effective methods of installing a deep foundation. They have a long history of providing a robust barrier through shaped, interlocking sheets that can last for 75+ years.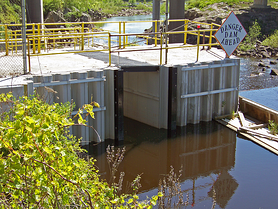 On the other hand, when deep foundations are not required we search for solutions such as concrete retaining walls, soldier pile walls, or even concrete consolidation of historical masonry walls. These solutions are a cost effective approach, however longevity can be sacrificed.
There is another solution that combines the strength of a sheet pile wall, the value of a concrete retaining wall, and modern-day technologies. This involves the use of vinyl sheet piling. Vinyl sheet piling comes in similar shapes and sizes as steel sheet piling, however it is made from Polyvinyl Chloride (PVC) so it resists degradation common in concrete walls.
Vinyl sheet piling can be used in several applications; however one of the most effective applications that we at Brennan have found is its use in concrete structure reinforcement. In this application it is effectively used as a leave-in-place formwork that helps protect newly placed concrete in above and below-water repairs. Vinyl sheet piling can be placed without the use of heavy equipment around an existing structure such as a bridge pier. It is secured in place using a steel waler system and rebar. The toe of the sheeting can be secured using grout bags.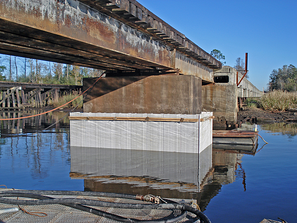 Once secured, the concrete can then be placed using traditional methods, or as preplaced aggregate concrete (PAC). The pressurization of installing the grout in the PAC method will consolidate the existing structure, increasing its strength.
The result is an aesthetically pleasing repair that combines long-lasting surface protection, with effective strengthening of the existing structure. This method is cost effective and will last longer than traditional concrete retaining walls.