Constructability reviews are imperative to project success. They can save you money, reduce the risk of cost escalation, and are often provided pro-bono by a good contractor. When it comes to requesting a contractor's constructability review, timing is important. If the review is performed too late, problems could result, including confusion surrounding the project, loss of significant time and money, and hefty change orders later in the project. The question then is: when is the optimal time to have a contractor perform a constructability review?
The Optimal Time for a Constructability Review
The optimal time for getting a contractor's constructability review is when the contract drawings and designs are approximately 75% to 85% ready, prior to starting the bid process.
The review gives a client and their designer valuable insight on the chosen project scope, while still allowing for changes to the planning process.
Advantages of an Early Constructability Review
The advantages of getting a contractor's constructability review at the optimal time include:
potential for reduced material costs for the project, which could be substantial.
insightful perspective for all parties.
determination of the best tools and technologies for the project's objectives
reduced risk for all stakeholders.
increased trust among contractors, engineers, and clients via enhanced transparency and continual communication.

Project Examples Showing the Value of an Early Constructability Review
The following are marine construction and environmental dredging project examples that illustrate the value an effective specialty contractor can bring to a project when given the opportunity to conduct a timely constructability review.
Brennan performed a constructability review that involved a support brace that was to be installed roughly 2 feet below water in a difficult-to-access area. The project called for the replacement of slide gates and components to be replaced in-kind. The brace was intended to keep the gate from bending as it was being raised and lowered. However, the constructability review revealed that the structure was strong enough with a sufficient safety factor and that the brace was not needed, resulting in savings of over $100,000 for the client.



In a recent project involving a dam, the initial plan was for the pool upstream from the dam to be drawn down to allow the repairs to be made in dry conditions. Had Brennan or a specialty contractor been able to perform a constructability review prior to the bid release, they would have most likely recommended an option to install floating bulkheads to dewater the area or requested an option to perform the work using underwater construction methods. Both options would have allowed the work to take place without drawing down the upstream pool. If the drawing down of the upstream pool took place, anyone wishing to use the pool for recreational activities would not have been able to.


Our third example demonstrates how an effective constructability review could

have saved time and money, in addition to minimizing impacts on the environment. A utility company wanted to perform significant modifications to a dam and spillway attached to a hydropower facility. The contract drawings sent out for bid called for three massive cofferdams of various sizes to dewater large areas of the worksite. Had Brennan been involved in the design process, we could have more easily proposed an alternate approach using small, modular cofferdams with a significantly smaller footprint that could be used multiple times. This would have likely 1.) saved over $1M, 2.) allowed for the work to be completed sooner, giving the proposed schedule more flexibility for the sequencing of work, and 3.) minimized the potential negative impacts on fish and wildlife, as the smaller cofferdams would not have encroached on the spawning areas.
With environmental dredging and remediation projects, getting a review done early can save owners thousands, if not millions. In a notable case, a dredging project went to bid with an undersized dewatering pad area. The dewatering pad area was consistent with an approved design; however, it simply wasn't large enough to serve the full volume of dredged material within the required landfill cap extents. As a result, 20,000 CY of dredged material needed to be handled twice, resulting in additional scope for the follow-on landfill closure activities. This change incurred additional design review and permitting. In some instances, it could add hundreds of thousands of dollars in costs and may result in the owner incurring off-site transportation and disposal costs which could cost millions of dollars. Engineers and owners can avoid these unexpected costs by consulting with a specialty sediment dewatering contractor early in the design phase.
The Advantages of Working with a Skilled Specialty Contractor
In the marine construction and environmental remediation industry, it's important to use an experienced specialty contractor who can pinpoint details that may be overlooked in a non-marine setting.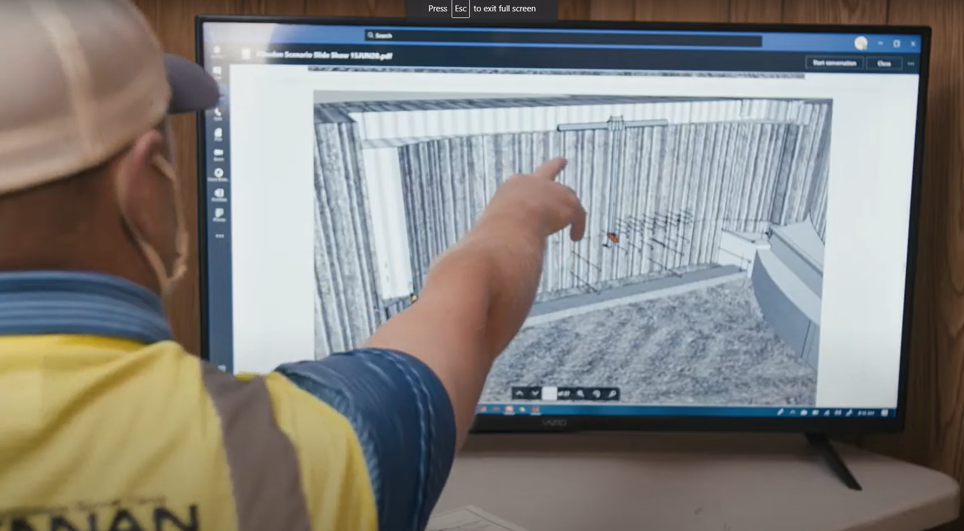 There are numerous advantages to working with a skilled and experienced specialty contractor.
Specialty contractors can provide more accurate solutions to a problem because they have had an opportunity to better understand the conditions at the site and the owner's requirements. Contrast this with waiting for traditional bid documents and having to comprehend a complex project in a matter of weeks, while the owner and designer have been engaged in the project for years.
Early involvement by the contractor with specific performance criteria will add value to the project. This is because the design intent is carried throughout the project, while efficiencies are identified throughout the design, permitting, and procurement processes.
Early specialty contractor involvement basically prequalifies companies, respects procurement practices, enhances efficiency, and assists with the overall project schedule.
Design documents driven by design intent and performance criteria allow contractors an opportunity to be creative and help the owners successfully accomplish their objectives.
These factors inevitably lead to a better outcome for all stakeholders.
Conclusion
As a prominent specialty contractor in the environmental and marine construction industry, Brennan recommends partnering with a contractor early on, during the design process. After all, contractors are the ones who will execute the work. Their knowledge and experience are a valuable resource to both owners and their engineers.
Reputable specialty contractors often provide out-of-the-box thinking that a complicated project requires. Any projects that are on or near a body of water fit this description. Bringing in an experienced specialty contractor, like Brennan, for an early constructability review will provide additional safety, efficiency, quality, and optimal budget savings to your project.
---
Looking for more info?
For details on Brennan's specialty construction capabilities, please visit our pages on Dam Construction, Marine Construction, and Environmental Services or contact our team.
All J.F. Brennan Company, Inc. works are protected by copyright. Use or republication without the authority of J.F. Brennan Company, Inc. is an infringement of the copyright owner's exclusive rights.