This past year, we made another key asset purchase: the SHERP ATV (SHERP). In addition to our Diamondback Airboat, the SHERP solidifies our durability and efficiency in working throughout wetland and marshy areas.
Wetlands, here we come!
From afar, our SHERP is jokingly compared to an overgrown "TONKA® toy." It's quite square in shape at 134 inches long, 99 inches wide, and 99 inches tall. Powered by a 44-horsepower Kubota diesel with a five-speed manual transmission—the SHERP might take a little extra practice if you don't know how to drive a manual transmission vehicle.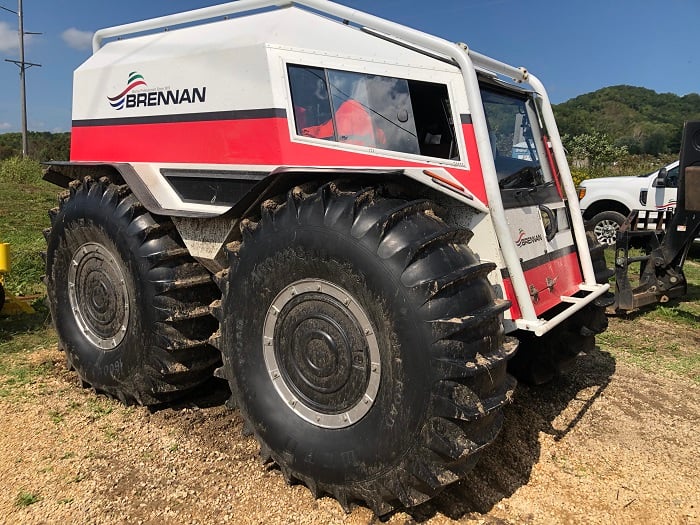 The SHERP can float due to its sealed hull and the buoyancy of its tires, which are 63 inches tall and 23 inches wide. Uniquely, the tires can be inflated or deflated while running, allowing the machine to adapt to varying conditions.
Brennan's SHERP ATV Specifications:

Weight: 3,000 LB

Dimensions: 134 IN long x 99 IN wide x 99 IN tall

Capacity: 6 people up to 2,200 LB

Engine: 45-horsepower Kubota Diesel, 5-speed manual

Max Speed: 24 MPH on land and 4 MPH in water
Why the SHERP ATV?
The SHERP is faster and holds more capacity than other amphibious assets in our fleet. The low ground pressure of the SHERP is perfect for environmentally sensitive areas that require a low-impact equipment, and Brennan continually works to minimize our environmental footprint.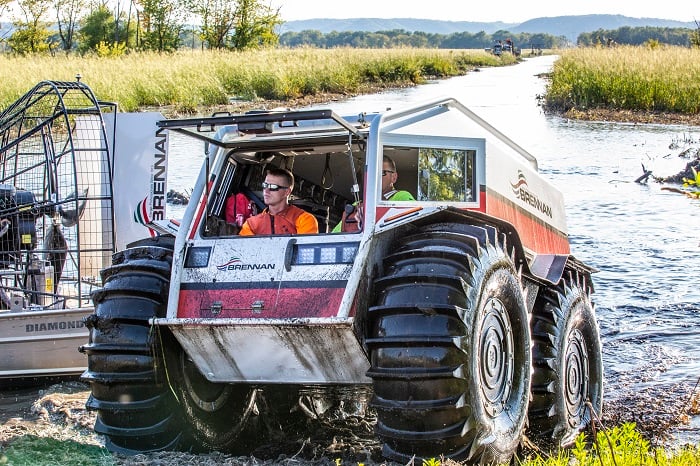 Versatility and Environmental Responsibility
The "gradeability" of the SHERP is 35 degrees, so it can climb an incline of 35 degrees (a steep bank). We purchased the SHERP to work in combination with our airboat. The SHERP excels in marshy, muddy, swamp conditions where the airboat would struggle.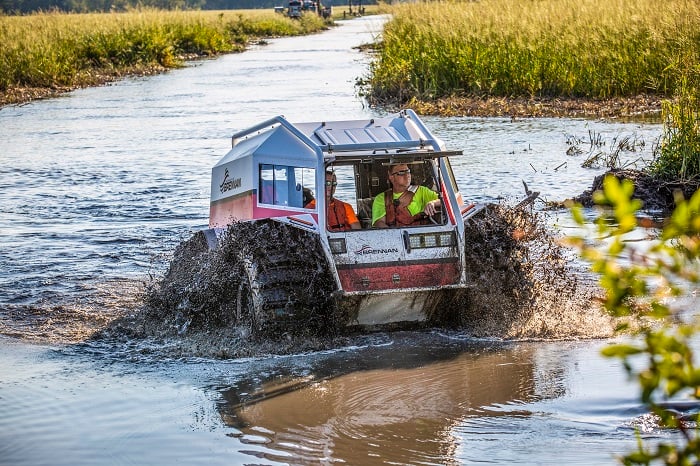 Brennan requires training for those operating new equipment and have multiple operators who can assist as needed. Experienced drivers can be taught how to operate the SHERP in a single afternoon.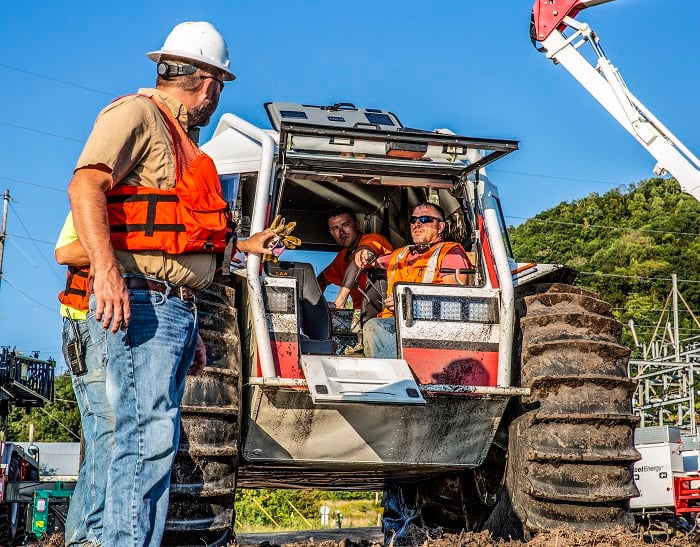 Amphibious Advantage
Our airboat and SHERP give us a great combination to put into service on jobs that would otherwise require far more costly alternatives. These types of tools distinguish Brennan from our competition, in versatility and in our ability to offer eco-friendly site access for heavy equipment.
...You might also enjoy our other amphibious equipment in action, and read more amphibious blogs here.
We'll never stop adapting, learning, and creating educational content.

Have a topic or question for Team Brennan? Definitely

contact
our team using the form below.