Have you ever wondered how you can get a job running a tow boat up and down the Mississippi River? Did you know that there is actually a shortage of river boat pilots?

To become a Master of Towing Vessels, you have to follow a standard process that takes time and commitment. This process will be described in a series of three blog posts that will show you how one becomes a tow boat pilot and what it entails. Each Master shoulders enormous responsibilities when navigating the ever-changing inland waterways of the United States. If you have ever read a Mark Twain novel, you will appreciate the skills and challenges that await!
Three topics will be covered:
Requirements -

What you need to succeed

Duties -

The responsibilities placed on your shoulders

Schedules -

It's not a 9 to 5 job!
Requirements
First, to become a licensed tow boat master on the western rivers or great lakes you must meet a standard of criteria set forth by the United States Coast Guard (USCG). In switching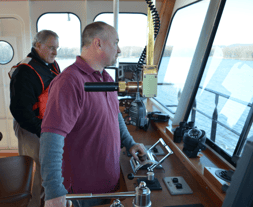 and fleeting operations on the western rivers you are required to have, at a minimum, a license as a Master of Towing vessels (Limited). This license requires a minimum of 540 days as a "deckhand," and an additional 540 days steering the vessel. This is then followed by a practical exam by a USCG approved examiner.
In a short haul towing environment a master is required to have a license as Master of Towing Vessels, this license requires 1,440 total days of service of which 540 of them have to be steering a vessel and 360 of those days must be on line-haul towing vessels. Each licenses require a series of written tests you must pass at a USCG approved exam center.
The USCG has placed heavy emphasis on service time, both decking and steering, to issue masters licenses in order to maintain the industry's position as the safest form of commodity transportation in the US. The service time to become a captain of a towing vessel is more stringent that even that of an airline pilot, where most airlines require 3,000 hours of flight time!
Why is this so demanding? Well, a 15 barge tow carries as much cargo as 216 rail cars, and 1,050 large semi trucks!
For Master or Towing Duties, continue to Part 2 of our blog: https://www.jfbrennan.com/blog/become-a-master-of-towing-vessels-part-2