Equipment-heavy industries continually push for optimal uptimes. At J.F. Brennan Company, Inc. (Brennan), we're committed to investing in our equipment not only during the purchasing process, but also during scheduled off-season maintenance. Internally, we coined the term "Brennanize" to refer to the custom alterations our team executes upon acquiring assets as well as our carefully regimented maintenance.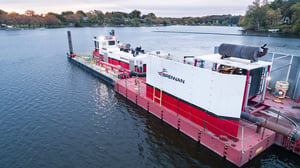 Brennan's fleet is highly customized; you won't find it anywhere else. Our team creates one-of-a-kind equipment to ensure maximum efficiency, safety, and—when bidding on projects— the utmost confidence in our ability to perform. Meticulous maintenance of our custom equipment is not taken lightly. Each winter, our team of mechanics and shop staff replace hydraulic lines, rebuild dredge pumps, overhaul engines, check wiring, and develop new tools and customizations to improve our equipment. It makes a difference.
Why customizing our fleet makes sense:
Safer work environments

There is safety-first culture at Brennan. We strive to proactively mitigate the risk of injury by ensuring that our crews have the right tools for their work. For instance, we use portable hydraulic dredges with expanded deck surfaces so our operators can move around safely. We place hydraulic lines in areas where crews can readily maintain them, and we establish lock-out systems to safeguard against cutterheads engaging during cleaning.

Our maintenance program is key to safety because it reduces unplanned shutdowns. An unplanned shutdown requires our crews to act quickly to make repairs and get the project running again. This reactionary response can compromise crew safety. Reducing the need for unplanned maintenance and repairs allows our crews to focus on their normal pre-planned activities.
Increased productivity—Maximum uptimes

Hydraulic dredge equipment can be scheduled to run 24 hours per day, six days per week. During typical excavation or construction projects, portions of the job can move forward even if one piece of equipment needs attention. But in hydraulic dredging, there is only one system: the dredge, the boosters, and the pipeline. If anything goes wrong with one part of the system, the entire project stops, causing mounting costs while production and revenue stagnate.

At Brennan, we target 80% uptime across all projects. This goal becomes more complicated when jobs allow for less run time per day. Crews have required planning and safety meetings, equipment warm-up and cool-down times, and other nonnegotiable factors that consume onsite time. For a job that only allows for 12 hours of run time per day, the obligatory "must do" parts of the project must still occur. We take it all into account and hold to our average goal of maintaining 80% uptime, regardless of job duration or run times.
Increased dredge accuracy

In the world of environmental remediation, we try to provide exactly what our client needs—we don't want to take more sediment or spend more time onsite than necessary. Having the proper and most accurate data is imperative, out of respect for our clients and the environment. Each winter, we invest in updated technology and training as necessary to allow for the most accurate readings and removal.
Organizational confidence and pride

Not only do we limit loss of time, we maximize our client's budget and instill the confidence required to bid on high-profile projects, executing them with the latest technology. We take pride in our work and the entire "Brennanizing" process. Brennan team members constantly enhance equipment functionality through rigorous field testing and provide subsequent recommendations for improved efficiency as we build our equipment from the ground up. Having the ability to create better solutions gives our team added confidence in the equipment they use every day.
Corporate responsibility—Reduction in environmental impact

As the demand for our fleet grows each year, it's important that we weigh the costs and benefits of our maintenance program. We also consider the environmental safety standard agreed upon by our leadership and company culture. Equipment malfunctions bring additional risks of losing parts or causing a mess onsite that we want to avoid. We uniquely create our equipment to our high standards. From noise and sound control to state-of-the-art lever rooms and engine maintenance, we ensure that our team has preeminent equipment at their work sites and that we reduce as many environmental risks as possible.

Long-term investment in your fleet—It's a must
At Brennan, we weigh the pros, cons, and standards of responsibility. Not only do we increase safety while limiting the loss of time, we maximize the value that we can deliver to our clients; we instill the confidence required to bid on high-profile projects, and we execute those projects with surgical precision.
Looking for similar resources? Read our piece entitled 7 Cost-Drivers of a Dredging Project
Download our Environmental Services Brochure for more info and photos of our work: