Dredging around utilities is challenging, and mistakes can be expensive and dangerous. When utilities, such as power lines, natural gas lines or fiber optics, are above ground they can be easily marked, and a plan can be developed to avoid them. However, when these same utilities are underwater, locating them and working around them adds an additional layer of risk for the contractor.
Since the objective of most environmental dredging projects is to remove as much impacted sediment as possible, contractors must carefully manage excavation around buried utilities. Rupturing a gas line or hitting a power line could be a matter of life or death.
A proper management plan will include the following:
1. Research & Identify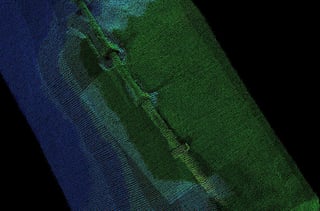 Burying utilities underneath a river is not a new technique; the age of a utility can range from brand new to nearly a century old, and finding them can be a difficult task. While the companies who manage the utilities may know their relevant locations, there is typically a level of uncertainty. To assure the most accurate location possible, technologies such as ground penetrating radar create an image showing where in the body of water a utility may be located.
Communication with providers is vital when dealing with buried utilities. While cities control water and sewer lines, energy companies control power lines, and fiber optics can be broadband companies. Extensive time has to be spent contacting all the utility owners as this helps to determine where the utilities are and whether they are active.
From our experience, the older the utility, the more uncertainty there is its location. We have also found that horizontal locations (longitudinal and latitudinal) seem to be more accurate whereas elevation can be less certain. There have also been projects were utilities were marked abandoned, only to be later designated as active.
2. Create a Buffer Zone
Once the location of the utilities is known, a buffer zone is created to avoid them. Creating this space goes a long way towards preventing any incidents by keeping equipment far enough away from any known utility. We typically see a standard buffer zone of at least 25 feet in the horizontal direction. In regards to elevation, we have experienced buffer zones of 5 feet or more. It is our opinion that as much space as possible be given to a contractor who is tasked with dredging over a buried utility. As mentioned previously, we have seen large variations in the elevations of historical utility lines.
3. Develop a Conservative Approach
There is no universal approach to dredging around utilities. Each project requires a specific plan agreed upon by the owner, engineer, and contractor.
When it comes to dredging around these utilities all variables have to be considered. Risks, such as spud placement, shallow water conditions, GPS accuracy limits, and bucket or cutterhead accuracy must be managed effectively to ensure the safety of the crew and the success of the project. In addition, whether the utility is considered to be active or abandoned, it must always be treated as active.
Furthermore, if the utility is armored for protection, a contractor must still avoid contact. Scour conditions are prevalent around utilities, and it is not uncommon to find an exposed pipeline or cable that was previously covered with an armament layer. Dive inspections or hydrographic surveys are the best methods to inspect evidence of exposure on buried underwater utilities.
When to Consider Diver Dredging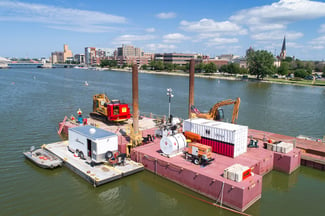 If there are certain conditions in which it is crucial to remove impacted sediment from over a buried utility, diver-assisted micro dredging, or diver dredging, can be implemented. This form of dredging is effective when working around a utility line that has been exposed, or is located at an unknown depth. Diver dredging is the hydraulic removal of small quantities of sediment using a slurry line small enough for a commercial diver to handle. He or she uses the slurry line to vacuum soft sediment off the top of the utility without the use of any heavy equipment.
Good Plans Lead to Success
Challenges related to underwater/ underground utilities are common on an environmental dredging project. Developing the right management plan requires knowledge of the work area, designation of a buffer zone, and an awareness of safe operating procedures. A good plan will keep crews safe and avoid costly delays.